Hartman's photo by © Nancy L. Ford
In the 1990s, Utica, New York was nearly destroyed by depopulation and arson. Real estate prices were so low that entire streets of the old upstate manufacturing town were torched for insurance payouts.
In City of Refugees, Susan Hartman shows how an influx of refugees—Vietnamese, Bosnians, Somalis, Iraqis, Burmese, and other groups—helped revive this small city, opening small businesses, fixing up abandoned houses, and adding a spark of vitality to forlorn streets.
This book sprang from a story Hartman wrote about Utica for the New York Times in 2014.  Her first week reporting, she met three newcomers—Sadia, Ali, and Mersiha—and their families.  After the story was published, she followed them for almost a decade as they adapted to a new world.
Nancy L. Ford's two photos below—shot in the 1990s when she covered fires for Utica's Observer-Dispatch—are a window into the city's past.  Other photos offer a glimpse of the present.
Hartman's photo by © Nancy L. Ford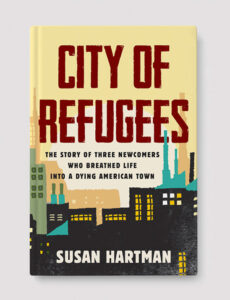 "Insightful and fascinating… will hone and reshape the reader's understanding of the impact of refugees on American society." — Booklist
"Hartman draws an intimate and captivating portrait of the struggle to build new lives while holding on to old values. Readers will gain vital insight into the immigrant experience in America." — Publishers Weekly
"Susan Hartman illuminates the humanity of these outsiders while demonstrating the crucial role immigrants play in the economy—and the soul—of the nation." — Stuart Miller, Los Angeles Times
"With a keen eye for detail and a lot of heart, Hartman follows three refugees for eight years… Hartman crafts a nuanced narrative about each creating a new life in a new country while simultaneously holding onto memories of home and not losing their identity. The beauty of City of Refugees is that it tackles all the bad things that happen to these people while also reveling in their dreams and growth." — Gabino Iglesias, San Francisco Chronicle
"A gripping, fast-moving immersion into the lives of three bright new lights in a once fading town, City of Refugees is a meticulous and timely work of journalism." — Dina Nayeri, author of The Ungrateful Refugee
"This is an American tale that everyone should read — the story of three refugees who forged a new life in the Rust Belt.  Hartman's journalistic dedication is nothing short of astounding.  She spent eight years following her subjects, and it shows.  The storytelling is so intimate and the characters feel so deeply real that you will know them like neighbors.  Sadia, who is a teenage girl when the book begins, is like the heroine of a great young adult novel.  You will root for her on every page and, by the end, you will not be able to wall off your heart from her hopes and dreams." — Jake Halpern, author of Welcome to the New World and winner of the Pulitzer Prize
"Susan Hartman's City of Refugees is storytelling at its very best. Her detailed portrait of the ordinary lives of a few extraordinary people and their community gives us an utterly compelling glimpse into the heart and soul of the United States of America in the 21st century." — Jenny McPhee, author and translator
"What a wonderful book! In this remarkably nuanced portrait of three refugees from three different trammeled regions, Susan Hartman manages a skillful end run around the topic's usual politicized discourse. Instead, she concentrates on her subjects' current and past experiences, including religious persecutions, wars, physical danger and their ambitions, confusions, joys and fears." — Lis Harris, author of In Jerusalem: Three Generations of an Israeli Family and a Palestinian Family
"City of Refugees is a tender, intimate, and important book—a carefully-reported rebuttal to the xenophobic narratives that define so much of modern American politics, and a gripping portrait of what three different refugees have offered the city of Utica through their labors of love." — Sarah Stillman, staff writer, The New Yorker
"Susan Hartman has written a vital book about the refugee experience in America. With spare and direct prose, she captures the daily joys and heartaches of three refugee families. This is a story of the tenacity of family bonds and the underappreciated contributions of refugees to the vitality of American life. I loved every single page." — Jen Percy, author of Demon Camp:  The Strange and Terrible Saga of a Soldier's Return from War; National Magazine Award Winner